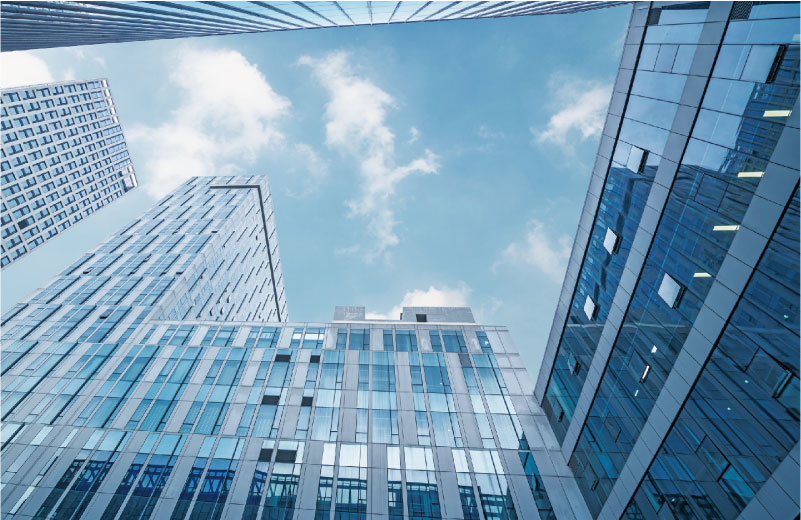 Company Overview
Onyx Healthcare is headquartered in Taiwan, with satellite offices in the Netherlands and California, and provides services to tier-1 medical instrument companies worldwide and as an NVIDIA Partner Network "NPN" Partner now. Onyx is a professional medical IT company in providing trusted, innovative products, customer-centric design services and medical pc solutions. Onyx cooperates closely with our partners to provide comprehensive medical products such as AI Ready Medical PC, Smart View Medical Stations, Fanless Slim Panel PC, Medical Display, Healthcare Infotainment, Mobile Tablet PC, Medical PC and Mobile Computing Cart, UPower Bank in the professional Hospital / Clinical IT market. Our products offer the advantages of filmless and paperless interaction in the hospital environment with certifications for ISO 13485, IEC/UL 60601-1, ISO 14971 risk management, and FDA registration. Product longevity is 7-10 years standard, with an optional extended 10-year support program. Onyx won notable awards such as the Taiwan Excellence Award / National Innovation Award / UK Best Medical AI Solutions Developer Award / Best Choice Award.
For Healthcare Provider
Healthcare IT Solution. Why ONYX?
Onyx Healthcare Inc. is a 100% medically focused subsidiary company of ASUS Group (Revenue: US$ 17B+) with 15 + years of medical device design experiences and ISO13485/ISO9001/FDA
Registered manufacturing practices.
*

One Stop Shop Service: HW + SW Turnkey Solution

*

Infection Control: Fanless Design, IP65

*

EHR Software Friendly: Epic, Cerner, NextGen, etc.

*

Safety Certification: EN/UL60601, CE/FCC Class B

*

Workflow Improvement: Mobile EHR, Telemedicine & Patient Engagement

*

Product Longevity: 5 ~ 7 Years

*

Standard Warranty: 2 Years

*

Extended Warranty: 5+ Years

*

PACS Image Processing: DICOM Compliant
Ready to Use Embedded Computing Platform
Belonging to ASUS Group, Onyx provides rich and cutting edge motherboard technology to our clients.
Do not worry about falling behind your competition. Your company will be the leader in the field.
-

Off-the shelf miniITX motherboard solution

-

Latest Computer-on Module (COM) solutions

-

Single compact computer solutions (X86 and RISC ARM)

-

Free of charge BIOS and driver service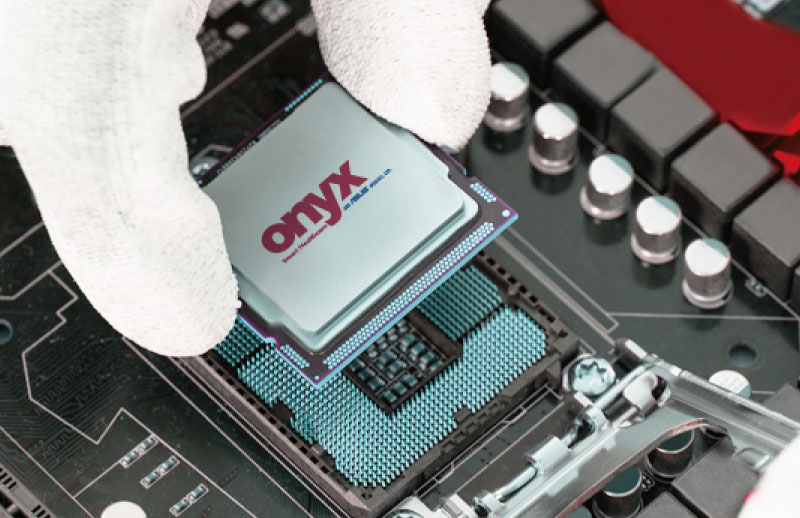 Design to win
Excellent design is the superior tool to win business. Based on such belief, Onyx has kept striving to strengthen our abilities in design experience since we started the company. We have trained outstanding R&D engineers to establish the professional team. They are not only experts in product developments, but also very in tune with the trends of technical and technology to assist our clients exploit new products that are truly competitive and break into the international market.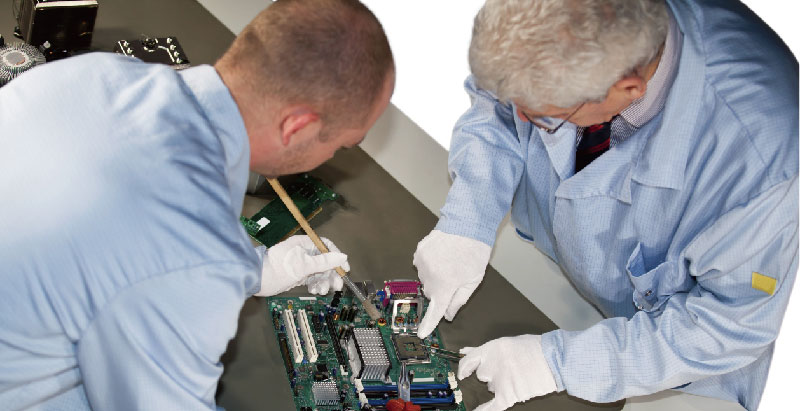 Quality Assurance
ONYX Healthcare Inc. provides a 2 year manufacturer's warranty to the entire ONYX product family and supports our clients locally via worldwide service centers with design and technical support capability. The company has acquired the following certifications and established its corporate quality assurance system with detail operational guide using closed loop feedback system approach. Throughout design, manufacturing, and service stages, ONYX Healthcare Inc. is committed to quality and service excellence with extensive knowledge to meet specific needs of medical IT and platform clients.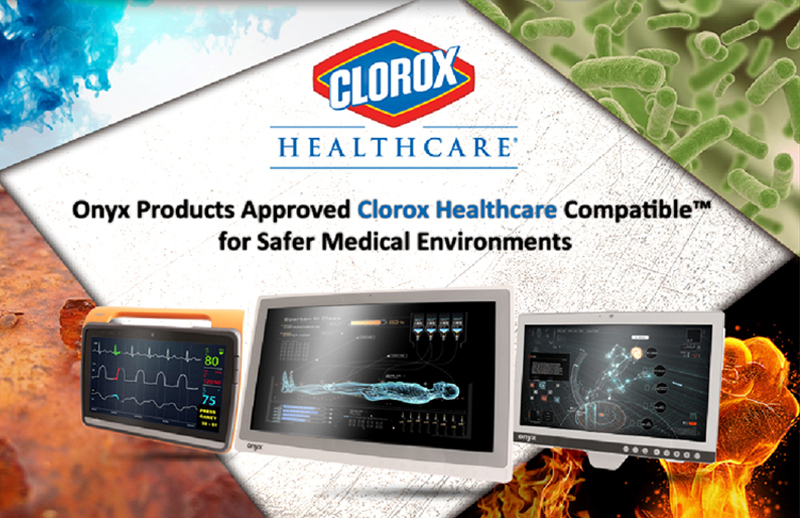 Approved for use with Clorox Healthcare® products
As a member of the Clorox Healthcare Compatible™ program, Onyx products are approved for use with Clorox Healthcare®products, which is an important advancement in safeguarding patient environments. Onyx's participation in the Clorox Healthcare Compatible™ program is based on our commitment to doing whatever we can to ensure that no patient should leave the hospital sicker than when they entered. We joined the program because we recognize the importance of disinfecting healthcare environments and that Clorox products are trusted by more than two thousand US hospitals for their infection prevention needs. Onyx Healthcare devices specifically designed for use in hospitals and other healthcare facilities, like the ZEUS series of clinical workstations or Venus series of medical cart computers, are particularly suited for cleaning with Clorox products to keep patients safe from infectious disease. It's important to not take chances when it comes to environmental disinfection, and Onyx together with Clorox is doing its part to make sure hospitals and other healthcare environments stay clean and disinfected for the safety of patients.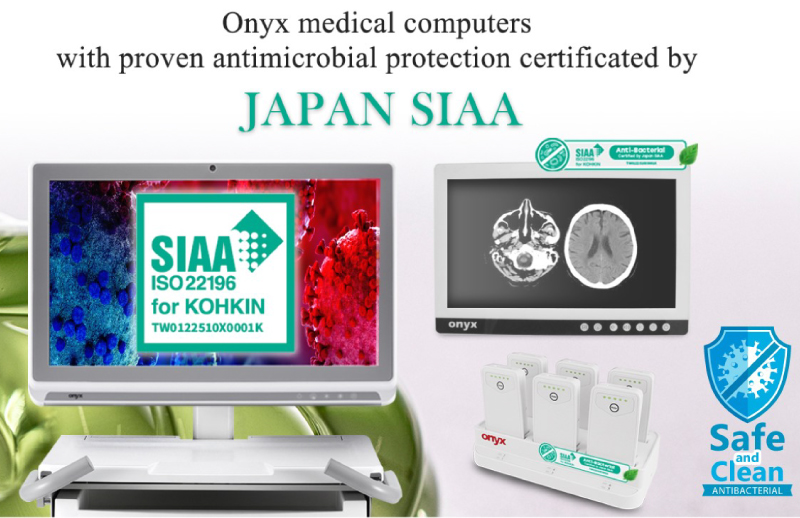 Antimicrobial protection certificated by JAPAN SIAA
The spread of infections in healthcare environments is a persistent and growing problem, Onyx medical computers adopt antimicrobial plastic materials to improve this issue, it provides better protection with 99.9% antimicrobial effectiveness. The antimicrobial properties are determined from the results of tests conducted in accordance with the JISZ2801(ISO22196) international standard and certificated by Japan SIAA.
Award
2023

Computex Best Choice Award

Dual GPU card Medical AI Edge PC with Intel 12th Gen Core i9 CPU

2023

Taiwan Excellence Award 2023

ACCEL-JS500 Medical Imaging AI computing Platform

2023

Taiwan Excellence Award 2023

UPower-Pro43 4-Slot Hot Swappable Battery Medical Power Bank

2023

Taiwan Excellence Award 2023

ACCEL-VM500 Medical Augmented Reality AI Image Computing Platform
Certification
ISO 13485:2016

Onyx meets specifies requirements of ISO 13485:2016 for a quality management system where an organization needs to demonstrate its ability to provide medical devices and related services from 2011/08/02.

CE:EN 60601-1-2:2015(V4.0)/EN60601-1:2006/A1:2013(V3.1)

All of onyx"s products comply with 93/42/EEC.

UL:ANSI/AAMI ES60601-1:2012(V3.1)

All of onyx's products have got the UL certificate.